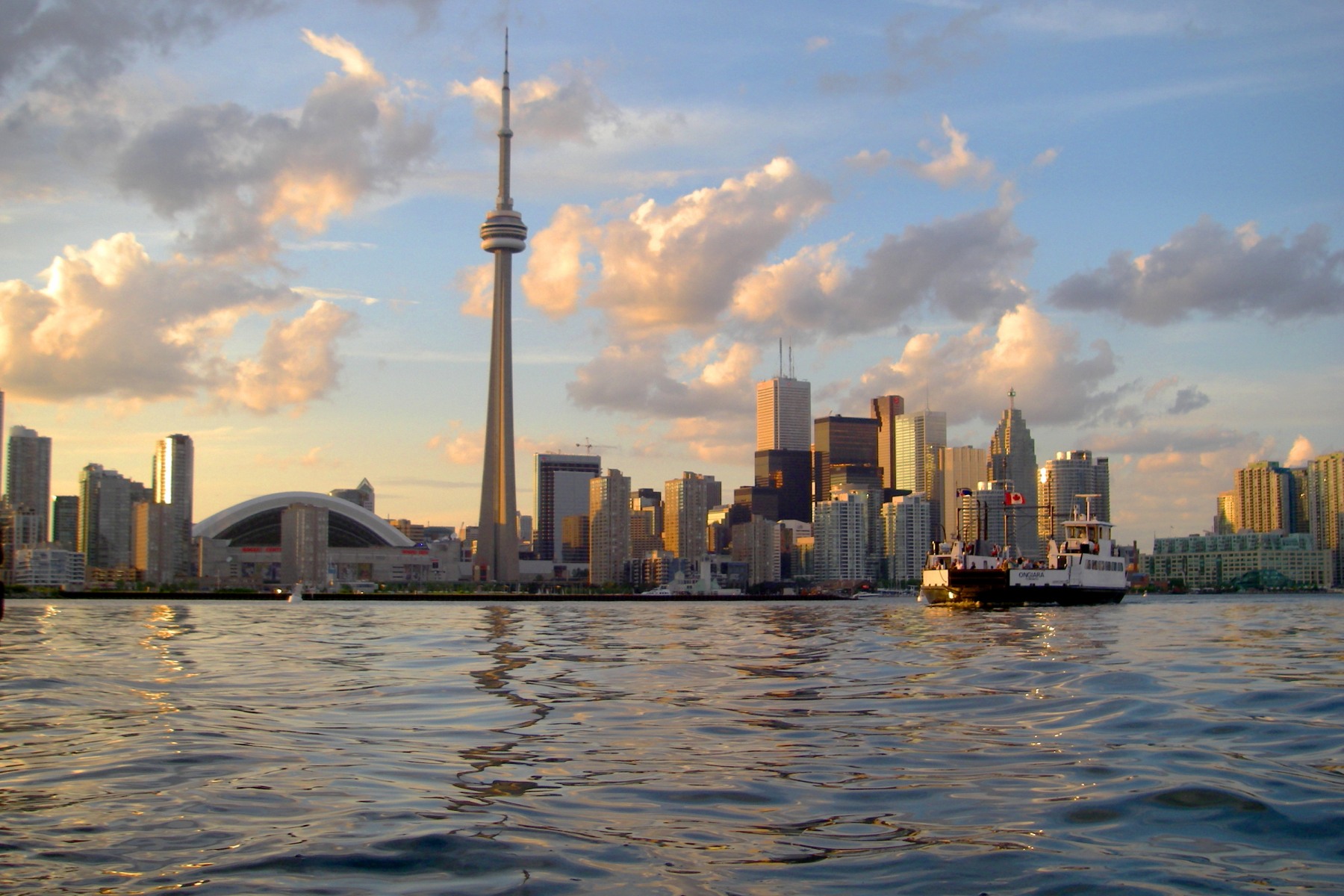 Canada has a few really great cities that stand out for different reasons. Vancouver is a shining gem with mild weather, a picturesque skyline, and the best skiing in North America. Montreal is built on a mountain island, boasts water everywhere, two languages and with four large universities is the youngest city in Canada. Quebec looks like someone dropped parts of old France or Spain in Canada. The classic buildings and charm of the place cannot be matched anywhere in the country. With all of these amazing cities having their own unique and special qualities, what I would tell you to do so see the top city in Canada is to book a flight to Toronto.
Toronto is a beautiful wonderland located on the northwestern shore of Lake Ontario. This ideal location gives it a close proximity to and views of the lake from most of the city. Toronto is one of North America's fastest growing cities and with a population of 2.6 million, it is North America's fourth largest city.
Toronto is a new city with nearly every office tower and condominium having been built in the past 20 years. There are also more than 100 skyscrapers going up now to add to the 45 that have just sprouted up over the past fifteen years. This has been due to the overwhelming demand for business facilities and residential living spaces in Toronto.
Visitors can expect to find a bustling city center with an abundance of cultural hotspots that include world class museums, cultural centers and galleries. Canada highly respects different cultures and its indigenous peoples as well, so there are tributes to all of them around the city.
The city has a firm commitment to green spaces, so parks and tree-lined streets are everywhere giving the sense of a smaller city. But this is definitely a large city as evidenced by the hundreds of eclectic cafes and brasseries that serve all types of local and international coffees based drinks and cuisine. For those looking for the casual eatery, you won't be disappointed.
For more formal fare, Toronto has been recognized internationally as a gastronome's delight. From the best French to Italian to South American dishes, if you desire it, you can find that type of food in Toronto.
Toronto's shopping is comparable to that of Tokyo or San Francisco with all of the major and lesser designers represented in the city. Toronto is also famous for its markets like the St Lawrence Market, where you can find all sorts of wares there for great prices along with local food as you shop.
How about a night cruise along Lake Ontario with a loved one. They run every night and can be booked for one or twenty passengers. Or you can hop a ferry to the Toronto Islands. The three islands, Centre, Ward's and Algonquin, are all green, lovely and connected, so you visit one and walk to the other two. It is a wonderful day for the family with a visitor center and activities throughout.
For families there are tons of attractions including the Toronto Zoo, the Hockey Hall of fame and the Royal Ontario Museum. And of course you can visit Toronto's most iconic structure the 1,815 foot CN Tower. You can visit the Glass Floor room (at 1,122 feet), the LookOut Level (at 1,136 feet), the revolving 360 The Restaurant (at 1,150 feet) and the SkyPod, which at 1,465 feet is one of the highest public observation area in the world.
There is some of the best golf and skiing in Canada and for those who want to hike there are miles of mountain trails too.
All of Canada's big cities are great but for travelers looking for the best experience, I'd choose Toronto. See you there!