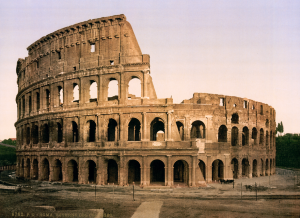 Figuring out where to spend all of your hard-earned money is half the battle when planning your vacation. It's easy to get lost in all of the noise and advice when coming to this decision and of course there is the potential heartache of arriving at the country of your choice, when all of the fun things to do and good weather have already passed.
Holidays aren't supposed to be stressful, quite the opposite in fact. No need to fret here – relax as we narrow it down to three of the best cities to visit in the continent of Europe this summer.
Rome
Rome is just oozing with culture considering its well-known worldwide credentials to the arts, cuisine and shopping industry. Nicknamed, The City of the Seven Hills, this fabulous city is rich in museums and breathtaking statues, all of course with fantastic historical meaning. If the museums get a bit too much for you then we recommend you get out and about to see the outside museums – the broken, majestic architecture which represents the fall of the once mighty Roman Empire. Make sure you pre-book your Rome apartment with HouseTrip before you get there to avoid disappointment.
Rome is of course home to the Sistine Chapel, which many tourists consider the highlight of the trip as they await to see the amazing ceiling artwork by Michelangelo, with nine scenes from the book of Genesis including one of the world's most well known paintings – "The Creation of Adam." If you're lucky you might get to see a glimpse of the Pope; neighboring Apostolic Palace is his residence after all.
Nice
Once you've finished arguing with your travel partner how to pronounce its name; you should most certainly consider booking a summer flight to Nice. There are worse ways to spend your summer than schmoozing with wine on the French Riviera in your smartest attire, while practicing your high school Français with the natives.
Nice is rich in choice of day trips and many opt to take a trip to Monaco and back to have a taste of the high life. Like Rome, Nice is also worth of bragging rights in the architecture and culture world, but is also the more liberal of the two. Expect topless beaches and crystal clear waters met with plenty of partying on the evenings. Check out HouseTrip in Nice to make sure you take advantage of the best that Nice has to offer.
Istanbul
Last, but certainly not least – we have Europe's most visited destination of 2014. It doesn't get much more interesting than Turkey's capital city when talking about a vacation that your friends and family will get bored (and jealous) of hearing about for the foreseeable future. Turkey is the bridge between Europe and Asia and it indeed encompasses the best of both of these worlds.
If sport is your thing, buy tickets to a soccer game involving Galatasaray, Fenerbahçe, or Besiktas – these are known to be amongst the most intense atmospheres in European soccer. If this doesn't sound tempting, then our best suggestion for Istanbul would be to simply eat your way around the city!
Turkish food is one of Europe's best-kept secrets; it's like Arabic food meets Mediterranean and you can't really argue with that. Just make sure that you don't leave this city until you've had a world famous Turkish massage!